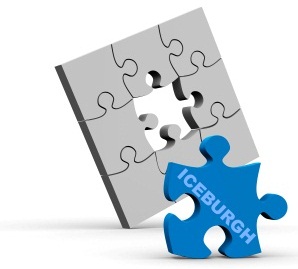 Iceburgh Solutions



Welcome to Iceburgh Solutions, LLC, a Certified Microsoft Partner and Small Business Specialist based in Pittsburgh, PA.
Dynamics GP 18.4 Released (October 2021)
Microsoft changed the version numbering of Dynamics GP with the 2019 release of Dynamics GP 18.2 (October 2019 release). Continuing with the yearly release cadence they have now released GP 18.4 with many bug fixes and new features as requested by end users.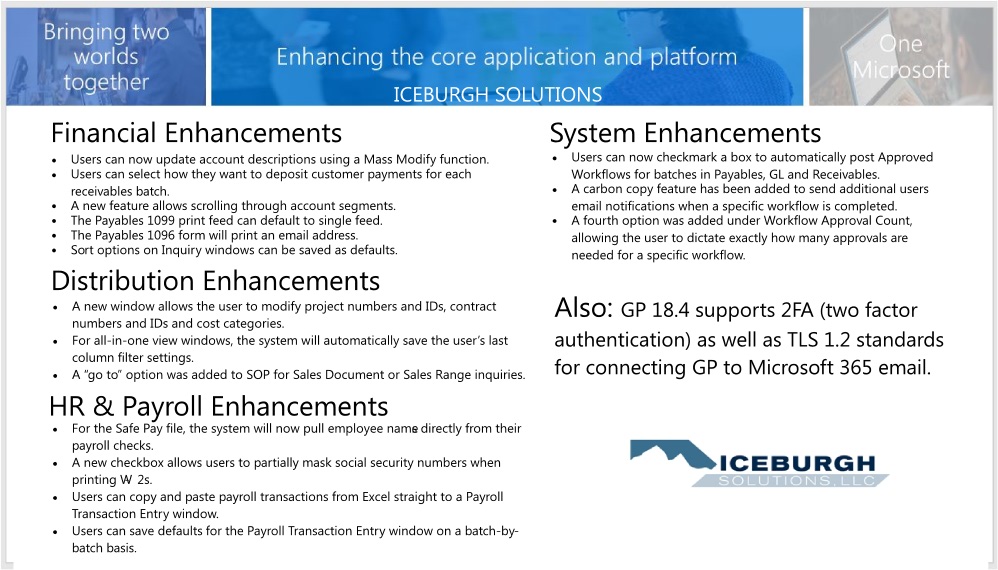 Updated system: requirements have essentially remained the same from the 18.3 release - here is a brief highlight of the current requirements. Check out the Microsoft Dynamics GP requirements page for the full list.
Windows Server 2019, 2016 2012 or 2012R2 (Essentials or Standard)
Windows 10 (Pro or Enterprise), Windows 8/8.1 (Pro, Ultimate, Enterprise), Windows 7 (Pro, Ultimate, Enterprise)
Microsoft Office 2013, 2016 or 2019 (32bit and x64)
Microsoft SQL Server 2014, 2016, 2017, 2019 (Enterprise, Stardard or Express)
ODBC Driver - SQL Native Client 10.0 and 11.0
Internet Explorer 11 or Edge
Contact us if you would like more information.
Accounting Solutions
Iceburgh Solutions is an IT services company specializing in accounting software solutions, consulting, support & development. Our primary solution, Microsoft Dynamics GP is an ERP system well suited toward the small to medium sized company. Our expert team will work with you to assess and meet your needs, finding the perfect business solution to fit your business model. Our partnerships with hardware and software sales companies will assist with quickly procuring servers, pc's and software required for the success of your business. Your questions and concerns will quickly be addressed by our knowledgeable staff and your expectations will be exceeded.
Web-Applications And Custom Development
We offer web development, custom web applications and custom development services. We can securely connect your business data into web-enabled portals, allowing your staff or customers access to timely business data from anywhere. Are you using spreadsheets to track business data, or have outdated programs or Access databases? We will work with you to create a web or cloud interface which will allow easier access to data entry, and allow more robust and timely reporting on that data.
Give us a call and let us tailor a solution to your needs and provide examples of existing implementations.
Infrastructure Solutions
Our expert staff can assist you with planning, implementing and supporting your office infrastructure. From PC's, servers, backup solutions and networks, to mobilizing your workforce and procuring software, we can help you make informed decisions regarding the multitude of options, and help you quickly see the return on investment as productivity soars and worries abate.
Iceburgh Solutions
Call us today, and our attentive, knowledgeable and responsive staff will help your business compete more efficiently in today's marketplace.